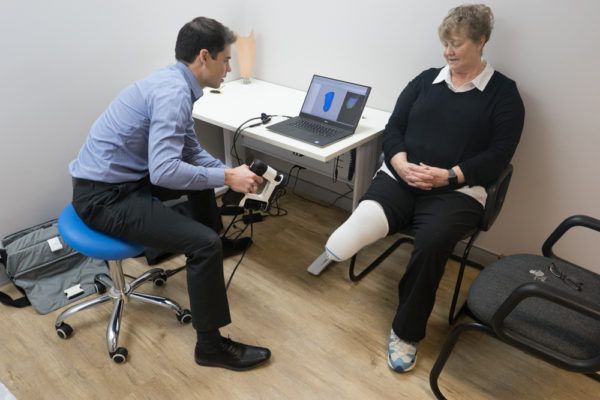 In this second segment, Nigel answers questions for what to expect if you are considering transitioning to a digital central fabricator (C-Fab).   
O&P fabrication is changing. Practitioners and business owners alike have concerns about the adoption of digital technology and how it may impact their roles and business outcomes.
Learn directly from a professional just like you who has made the shift in part two of this three-part series. Nigel Freeman, CPO and Director at Momentum Health Technologies, shares his insights on questions you need to ask before going digital.
   1. How is the business of O&P changing?  
O&P Practitioners are being held more and more accountable by payers like National Disability Insurance Scheme (NDIS) that require increased documentation and demand for evidence-based practice. This accountability is driving a change in our processes and how we spend our time. When we can demonstrate outcomes, it also improves the way we are viewed by other health care professionals, which means they will feel more confident in referring to us. As so many other medical professions are incorporating technology in their processes, digital options are almost expected by patients.
  2. How would using a digital C-Fab help me succeed through these changes?
Clinics have the capacity to turnaround a device much more efficiently with a digital C-Fab. With these changes implemented by NDIS, we need to spend more time with our patient- evaluating, fitting, and recording objective outcomes, which leaves less time for fabrication. If CAD/CAM can free up time in the plaster room and fab workshop, it means more time to consult with clients, market your business and to deal with NDIS reporting requirements.
  3. What are the challenges that I should expect if I did switch to a digital C-Fab?
The biggest challenge for us was change. It took a change in mindset for us to switch from working with our hands to modifying with a mouse. It was also a change in the methods we use for fabrication. Any person going into a new process of any kind expecting to do it perfectly the first time has unrealistic expectations. For clinicians who have been using plaster and casting methods for 5, 10, 15 or 20 years, adjusting to a new process will take time; but this will be a few months rather than years.  When choosing a C-Fab provider, take time to discuss your needs and how the fabrication partner can support your business and fit in with your service model.  Experience and support with digital techniques will ensure that the challenges are reduced.
   4. Is there a case where I should NOT consider using a digital C-Fab?
That's a hard one. There may be specific instances where it isn't suitable, such as businesses that already have a comprehensive technical laboratory and staff.  Otherwise, whether your business is small or large, digital C-Fab provides flexibility. Clinics of all sizes can benefit from having the choice to augment their in-house fabrication when facing periods of heavy demand or technician absence due to sickness or leave.
Are you interested in learning more about making the switch? Feel free to contact Nam Vo at nam@vorum.com or Nigel Freeman at nfreeman@momentumsr.com.au to find out more.