Vorum and Shriners Children's head to Panama!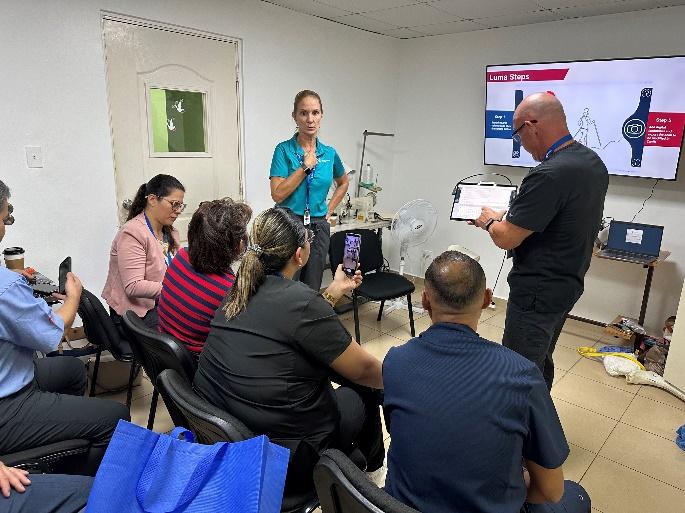 Providing care for children closer to home
On Monday, 28th August, Vorum headed to Panama to assist with the roll out of our LUMA 3D scanners with Shriners Children. Nadine Ayoubi (Vorum) joined JoAnne Kanas, (DPT ,CPO Corporate Director of Orthotics and Prosthetics in Shriners Children's), Laura L. Kozloski, (PhD, Executive Director, International Strategy in Shriners Children's), Kevin Harrell (Shriners Children's), Ricaurte Arrocha (Board of Trustees for Shriners Children's) and Joel Martinez Santos (Director del Centro lnterdisciplinario de Investigación y Atención en Educación y Salu) to give 2 Luma 3D scanners to UDELAS Panama and to undergo training for these scanners.
In an era where technology continues to redefine various industries, the field of healthcare stands as one of the most promising beneficiaries. Innovations like 3D scanning and CAD / CAM have introduced a new dimension to medical practices, enabling precise diagnostics and enhanced patient care. Nadine Ayoubi embarked on this remarkable journey to Panama with Shriners Children's to teach the team at UDELAS Panama how to use Luma to its best potential for their pediatric patients.
The Journey Begins
Shriners Children's are committed to reaching as many children as possible, wherever they may live, and offering them their unique, patient-orientated, wrap-around care.
With a combined passion for improving global healthcare, Vorum and Shriners Children's set foot in Panama with excitement and determination. The trip commenced with a comprehensive training program designed to equip the hospital's medical staff with the skills required to operate and extract the full potential of Luma. Together Vorum and Shriners Children's landed in Panama with the goal of created care for children closer to home for prosthetics and orthotics.
Luma in the Hands of Panama's Healthcare Heroes
Witnessing the hospital staff's transition from novices to confident Luma users was a remarkable experience. The Luma 3D Scanner seamlessly integrated into their medical workflows, enhancing their ability to visualize complex cases and collaborate effectively.
Our Panama trip wasn't just about technology transfer; it was about leaving a lasting impact on healthcare. The skills imparted to the hospital staff will continue to ripple through patient care, diagnosis accuracy, and medical education.
The Luma Scanner now means that children in Panama will no longer need to travel to the United States for Prosthetics and Orthotics.
A Step Forward in Healthcare Evolution
As Nadine and Shriners Children's bid farewell to Panama, we reflected on the significance of their journey. They embarked on a journey to empower healthcare professionals with the cutting-edge tools of tomorrow. This mission was a testament to the power of collaboration, adaptability, and the universal goal of improving lives through innovation.