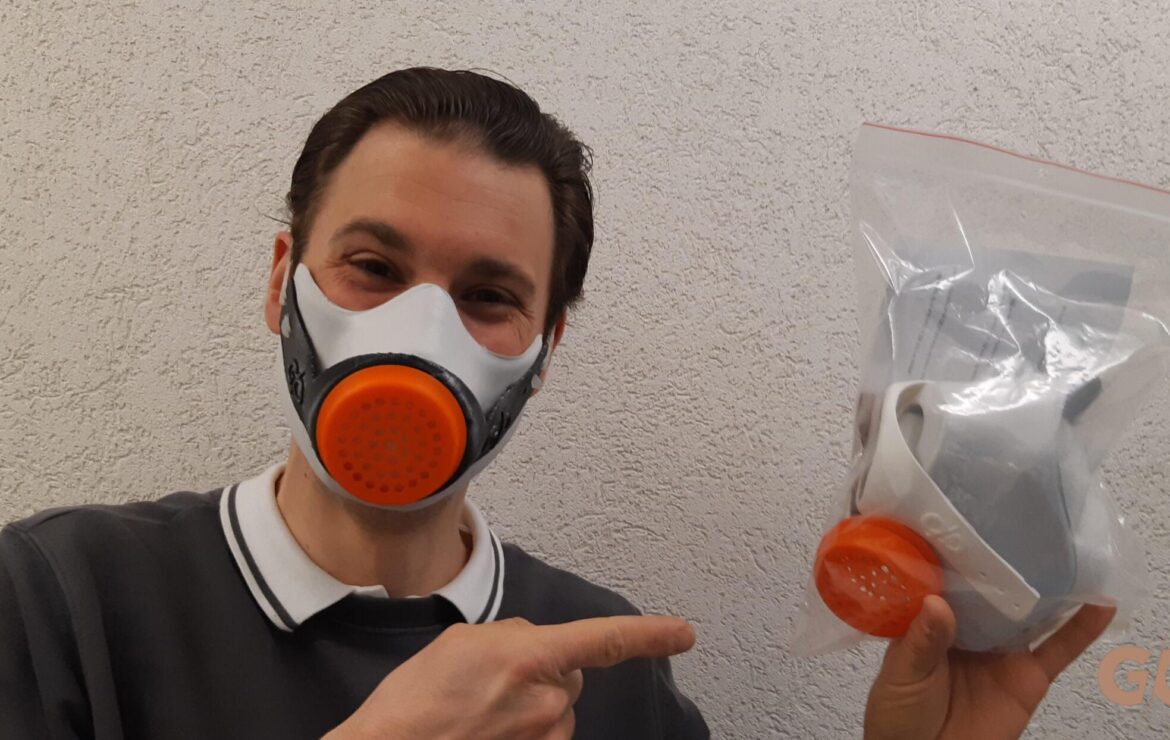 Giglio Orthopédie, a leading producer of orthopedic devices in Geneva, Switzerland, used Vorum's technology in the development of a face mask that prevents the spread of COVID-19. While they are seeing fewer patients at their clinics, they used this time to put their expertise with the system towards the greater good.
An accurate scan of the face was collected using the Spectra™ 3D scanner. Giglio Orthopédie brought the face scan into Canfit™ design software and merged it with a 3D model of the filter, then used the modification tools to create a smooth taper. The trimline tools allowed them to draw an accurate cut-out of the soft foam for the mask. They also used the 3D printing tools to design the plastic holder for the filter. Once the face mask design was complete, Canfit™ displayed a 3D simulation to preview the mask on the face. The high accuracy in the software produced a great result: the filters fit perfectly into the mask, and the mask fits perfectly with the user.
"…We have colleagues that are extremely competent in their field. We use our expertise, the way we work with the materials, to provide a high quality of service for the general public. You need masks, we have the capacity to produce them, so we offer them to you." – Rémy Giglio
The mask is designed by the experts at Giglio from start to finish. The form-fitted filter lets the user breathe fresh air while preventing them from spreading droplets. It offers optimal protection during exhalation. Unlike fabric masks, it provides some space around the nose and mouth while retaining a tight seal even if there is contact moving the placement of the mask. The mask's filter system consists of a cover and a holder, both 3D printed, that thread together. With a F7-class filter material, the face mask can absorb fine to medium materials while still allowing the user to breathe easily. A soft foam base holds the face mask together and fits to the face comfortably.
The Giglio Orthopédie team worked hard to meet the high demand for masks and offered them free of charge to its patients and to individuals interested in the product. A total of 1,000 masks were produced and offered to the wider public for a donation of 10 francs. A reserve of 10 filters was included with each mask, representing a total of 10,000 disposable FFP 2 filters. Giglio Orthopédie donated 25,000 francs to the community, which includes the development and manufacture of the masks.
Proceeds from this generous project raised 10,000 francs for the HUG Private Foundation, which supports virus research funding and front-line caregivers during this difficult time. It is part of Giglio's mission to use technology in innovative ways to improve the quality of life for their patients.
If you'd like to learn more, you can contact Giglio Orthopédie with the information below or reach out to us at info@vorum.com