Vorum over the Years!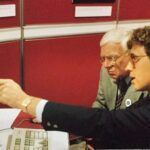 Vorum has been a pivotal contributor to the Prosthetics and Orthotics industry for over 30 years. Over the past 30 years Vorum has constantly evolved and continued their outstanding success in the industry. Vorum was founded in 1989 by Carl Saunders, however, Carl's research began 11 years prior to this in 1978. Carl started his research with Jim Foort, the first researcher in the world to apply computer technology to fitting prosthetics. Carl spent the next few years researching and developing the first Computer Aided Design and Manufacturing (CAD / CAM) system. In 1983 Carl presented this system at the World Congress of the Society for Prosthetics and Orthotics (ISPO) where he showed the future of the Prosthetics and Orthotics industry.  
In 1989 Vorum Research Corporation was officially founded by Carl Saunders. This marked the beginning of Vorum's incredible future success. Carl Saunders explains that when he first had the opportunity to start Vorum "we had no idea where this was going to lead. I was able to offer 8-month contracts to each of the early employees but could not promise anything beyond that." He further explains how "We were building off of an idea, one that challenged conventional approach… it was difficult to predict how soon the industry would be ready to make this change with us."  
We were building off of an idea, one that challenged conventional approach… it was difficult to predict how soon the industry would be ready to make this change with us
Vorum's success began to grow with many businesses purchasing the Canfit Software, a Software that we still use today (twenty versions of software later). This continued success led to the first large capacity O&P carver in 1995, Vorum's 3-axis Carver. This was the world's first purpose-built O&P carver with the capacity to carve a large spinal mold with a smooth surface finish in under 20 minutes.  
Vorum's innovation in technology did not stop there with the launch of their first optical scanner in 1999 and the first high-speed cranial scanner (STARscanner™) in 2001. Vorum developed the STARscanner™, the first high-speed optical scanner for cranial's, and licenses it to Orthomerica who becomes the world's leading provider of cranial remolding orthoses. 
By 2013 Vorum had launched the first blue-light optical scanner (Spectra™) and the first robotic carving cell for high volume O&P production. Vorum's Spectra™ 3D Scanner became the first scanner designed and built by an O&P company and delivered new levels of speed, accuracy, and ease-of-use. The spectra Scanner is still being used by hundreds of clinics worldwide today!  
In 2015, Vorum reached another milestone when Vorum customers become the first practitioners in the world to successfully use 3D printing in daily clinical practice to produce superior quality custom-fitting devices. 3D printers begin to precisely deposit heated plastic beads or filaments to build up Prosthetic and Orthotic devices directly.
Today, after 30 years of research, innovation, and collaboration, Vorum can now be found in over 45 countries worldwide and has made installations in over 800 clinics worldwide. Thousands of Prosthetist and Orthotists have supplanted messy plaster-casting methods with a digital approach that uses Vorum's non-contact optical shape scanners, 3D design software, automated mold carvers, and 3D printing solutions.